NELI Online Training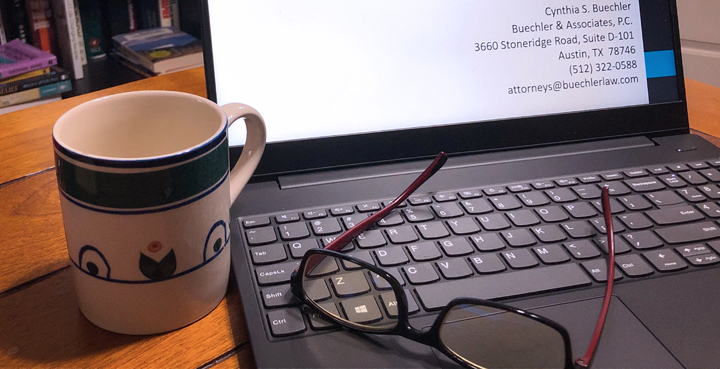 Continuing Education Made Simple
Our On Demand Trainings are designed to provide  easy access to training on various education related topics.  Each On Demand Webinar is pre-recorded and can be watched at your leisure.  Each provides one hour of continuing education training…you can even download a certificate of attendance from within the training!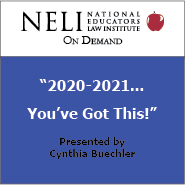 2020 – 2021…You've Got This!
The 2020-2021 school year is fast approaching and it will be like no other school year.  While it will be different and challenging, you've got this!  Join attorney Cynthia Buechler for this hour long webinar.  Ms. Buechler will provide critical legal guidance on actions a district must take for preventing, responding to and mitigating COVID-19 when school starts.  Cynthia will also provide common sense advice to address special education situations during this unique school year including ARD meeting issues, compensatory services, initial referrals, conducting evaluations and parent issues.
Cost:  $35.00                            Presenter:  Cynthia Buechler                                          CEU Credits:  1 Hour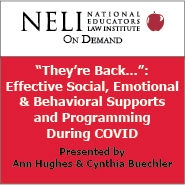 "They're Back…":  Effective Social, Emotional & Behavioral Supports and Programming During COVID
This On Demand Webinar presents practical ideas and strategies to address and strengthen educators' responses and interventions for the social, emotional and behavioral needs of students in the context of the COVID-19 pandemic.  You will learn effective strategies for school personnel before students return, when they do return, and in preparation for possible ongoing COVID-19 related school closures
Cost:  $35.00                            Presenter:  Dr. Ann Hughes                                          CEU Credits:  1 Hour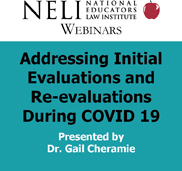 Addressing Initial Evaluations and Re-evaluations During COVID 19
Dr. Gail Cheramie will discuss how to address the different scenarios of initial evaluations, ECI, and re-evaluations during distance learning, and what must be done once the students return to school.
Cost:  $35.00                            Presenter:  Dr. Gail Cheramie                                        CEU Credits:  1 Hour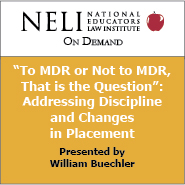 "To MDR or Not to MDR, That is the Question":  Addressing Discipline and Changes in Placement
Originally presented at NELI's Spring 2020 Conferences, this webinar provides extensive guidance in the Section 504 discipline context. While focusing on manifestation determination reviews, Attorney William Buechler discusses the myriad discipline Issues that educators face in the Section 504 arena including removals, the ten-day rule, changes in placement, FBA's, and expulsions.
Cost:  $35.00                            Presenter:   William Buechler                                      CEU Credits:  1 Hour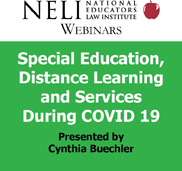 Special Education, Distance Learning and Services During COVID 19
Special education attorney Cynthia Buechler will give plain and simple advice on contingency plans, progress reports, ESY, annual ARDS, and telehealth services during distance learning, and what needs to occur when students return to school.
Cost:  $35.00                         Presenter:  Cynthia Buechler                                      CEU Credits:  1 Hour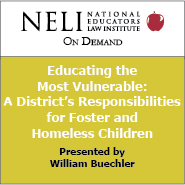 Educating the Most Vulnerable:  A District's Responsibilities for Foster and Homeless Children
Originally presented during NELI's 2020 Assessment Bootcamp, this webinar addresses the critical legal issues surrounding the education of our most vulnerable students. Attorney William Buechler provides valuable and comprehensive guidance to educators for dealing with and serving the needs of homeless students and children in the foster system.
Cost:  $35.00                         Presenter:  William Buechler                                      CEU Credits:  1 Hour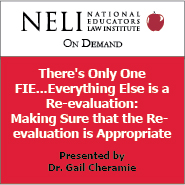 There's Only One FIE…Everything Else is a Re-evaluation:  Making Sure that the Re-evaluation is Appropriate
Dr. Gail Cheramie uses the re-evaluation folder to make the complicated re-evaluation process understandable and easy to follow. Dr. Cheramie provides critical guidance on evaluation planning and guidance, including:  What information needs to be collected and considered;  What questions need to be asked and answered;  How to use this data to determine what testing, if any, is needed to identify the student's current eligibilities and needs.
Cost:  $35.00                         Presenter:  Dr. Gail Cheramie                                      CEU Credits:  1 Hour
*Cancellation Policy:  Once purchased, you will have immediate access to the NELI On Demand Training you purchased.  Once you have accessed the training material, no  cancellation or refund is available.  View full list of Terms and Conditions
Copyright © 2017 National Educators Law Institute All rights reserved | Design by
Austin Web Design