NELI Live Webinars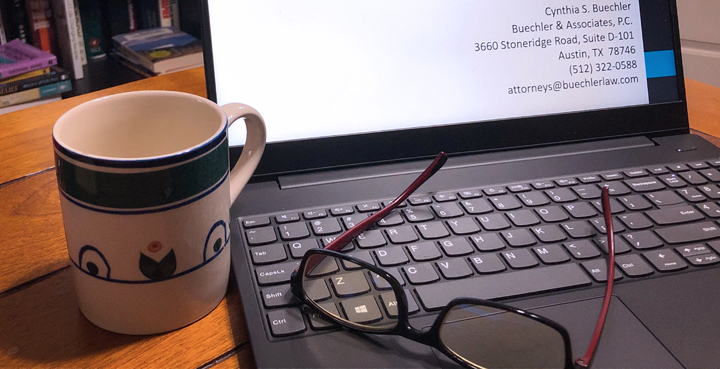 NELI's Live Webinars are designed to provide easy access to expert advice on a variety of timely topics.  Below is a list of upcoming Live Webinars
*All Live Webinars will be recorded and registrants may access the recorded version for 30 days after the live event should you not be able to attend on the date and time of the Live Webinar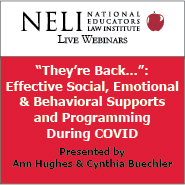 "They're Back…":  Effective Social, Emotional & Behavioral Supports and Programming During COVID
This webinar will present practical ideas and strategies to address and strengthen educators' responses and interventions for the social, emotional and behavioral needs of students in the context of the COVID-19 pandemic.  You will learn effective strategies for school personnel before students return, when they do return, and in preparation for possible ongoing COVID-19 related school closures.

Cost:                 $35.00               
Date & Time:   July 30, 2020  10:00 – 11:00 a.m. cst             
Presenters:     Dr. Ann Hughes & Cynthia Buechler
What You Will Learn
What should be done when a student refuses to wear a mask or to social distance?  How can the school address a student's anxiety about returning to school?  These and many more pressing questions will be answered in this timely webinar.  Recent national surveys have shown that students will have increased levels of stress, anxiety and depression due to the COVID-19 pandemic.  Dr. Ann Hughes and Cynthia Buechler will guide you through strategies to strengthen educators' responses and interventions for the social, emotional and behavioral needs of students upon their return.
What You Will Learn:
Proven ways to develop and nurture positive, connected relationships with students (prior to their return, when they are back and when further unanticipated school closures may occur);

Effective Strategies for addressing defiant behaviors such as refusing to wear a mask and maintaining social distancing;

High yield strategies and interventions for social emotional learning in the classroom, in remote & hybrid learning settings;

A variety of tools including student survey/interview, social stories and methods to safely explore with students, their family's experiences of COVID-19, how to make sense of it and mitigate some of the fears associated with it;

Proven ways of strengthening students' self awareness, self-management, responsible decision making, relationship and social awareness skills;

Strategies to use immediately to ensure students feel physically and psychologically safe at school.
*There will be a live Q&A session as part of this webinar
About the Presenters
Ann Hughes, Ph.D., is an award winning behavior specialist and author.  With over 26 years experience as a teacher, behavior specialist and administrator in alternative education settings, including DAEPs, juvenile correctional settings, and alternative schools, Dr. Hughes is renowned for her methods of working with students with social, emotional and behavior challenges.
Cynthia S. Buechler is a partner in the law firm of Buechler & Associates, P.C. with over 35 years of experience working exclusively in the area of disabilities law.  Ms. Buechler is a nationally recognized expert in the areas of special education, Section 504 and the Americans with Disabilities Act.
Who Should Attend
Special Education Directors

Behavior Specialists

Social Emotional Learning Coordinators

Principals/Administrators

Special Education Teachers

General Education Teachers

School Pyschologists

DAEP Staff

Counselors

Superintendents
*Cancellation Policy:  You may cancel your registration for any NELI Live Webinar up until 24 hours before the Webinar begins.  To cancel a paid registration, you MUST contact NELI to ensure payment is refunded.   NELI reserves the right to modify this policy.
Copyright © 2017 National Educators Law Institute All rights reserved | Design by
Austin Web Design