Pre Conference Day on Behavior 2023
Map Unavailable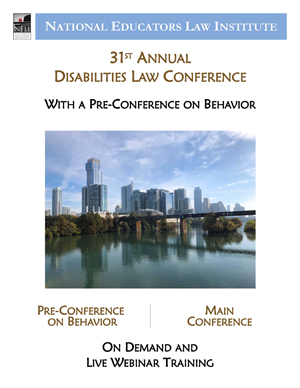 Date/Time
Date(s) - 12/06/2023
All Day
Price (per registrant)
$195.00
On Demand and Live Webinar Training!  Pre Conference Day on Behavior Topics Include:
"Is He Dangerous or Not Dangerous, Only His Juvenile Records Know for Sure":  How it Took Litigation for a School to Obtain the Juvenile Records of a Violent Student  (LIVE Webinar December 6 @ 10:00 am cst)
"The Real Deal":  School Based Behavioral and Mental Health Supports that Really Work

(LIVE Webinar December 6 @ 2 pm cst)

 "#Onlinebullying":  Handling Social Media Offenses that Occur Outside of School (On Demand Webinar)
"Vaping is Mandatory, Weed is Discretionary…What Were They Thinking?":  Addressing the Changes to Discipline Under Chapter 37 (On Demand Webinar)
"He Was Just Joking When He Said He'd Blow Up the School":  How to Effectively Conduct a Threat Assessment (On Demand Webinar)
"To Manifest or Not to Manifest, That is the Question":  Conducting a Bulletproof MDR (On Demand Webinar)
*Attend the Live Webinars on the specific dates or watch the recorded version at your convenience.  All topics will be available in recorded format through January 31, 2024.
Register Now:
Copyright © 2022 National Educators Law Institute All rights reserved | Design by
Austin Web Design