21st Annual Assessment Boot Camp
Map Unavailable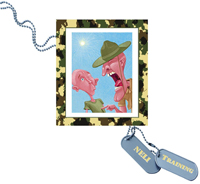 Date/Time
Date(s) - 06/09/2022 - 06/10/2022
All Day
Price (per registrant)
$270.00
NOTE:  Our NELI Assessment Boot Camp is available online this year. Sign up and get FREE ACCESS to a recorded version of our 2 hour bonus Webinar on "411 of Dyslexia"!
All Conference topics are recorded and available On Demand through July 31, 2022 (including recorded versions of the Live Webinars).  Choose to attend the Live Webinars on the specific date and time OR watch the recorded versions at your own convenience!  Assessment Boot Camp Topics Include:
"As a Taxpayer, I Pay for Your Salary and You Work for Me!":  How to Effectively Deal with Challenging Parents (LIVE June 9 @ 10:00 am cst)
"What Are Your Emotions Like Today?":  The Role of the Counselor (LIVE June 9 @ 2:00 pm cst)
"Has the SLD Evaluation Had a Facelift or is it Still the Good Ol' Evaluation Methods We All Love?":  How to Conduct an Appropriate SLD Evaluation (LIVE June 10 @ 10:00 am cst)
"Feel My Shirt, It's Boyfriend Material":  The Responsibility of Teaching Personal Boundaries (LIVE June 10 @ 2:00 pm cst)
"I Want to View the Video!":  Addressing Parental Requests Regarding Videos in the Self Contained Classroom, Common Areas and the Bus (On Demand)
"Too Little, Too Much, or Just Right?":  Providing Related Services as Part of the IEP (On Demand)
"Augmentative Communication Devices, Fidgets, Pencil Grips to Name a Few":  The Use of Assistive Technology to Support Instruction (On Demand)
"Goodbye to the Old, Hello to the New":  STAAR 1.0 to STAAR 2.0 (On Demand)
"the ARD Meeting Was Duly Noticed":  Drafting Defensible Deliberations (On Demand)
Who Should Attend:
NELI conferences are open to all school personnel. Whether you're in special education, general education, or school administration, this conference is designed for:
Special Education Directors
DAEP Personnel
Principals/Administrators
Superintendents
Educational Diagnosticians
504 Personnel
Special Education Personnel
General Education Personnel
Counselors
Teachers
LSSPs
Charter School Personnel
Board Members
Register Now:
Bookings are closed for this event.
Copyright © 2022 National Educators Law Institute All rights reserved | Design by
Austin Web Design