11th Annual 504 Academy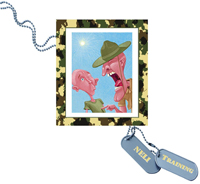 Date/Time
Date(s) - 06/05/2017
9:00 am - 3:30 pm
Price (per registrant)
$165.00
Location
The Westin at The Domain
11301 Domain Drive
Austin, Texas

504 Topics
"Here Comes the Feds": An OCR ecision Update Including the Rescission of the Transgender Student Guidelines
"The Proof is in the Pudding": How to Conduct a Title II Investigation
"Is He or Isn't He? Only the 504 Committee Knows for Sure": Determining Eligibility Under Section 504
"Put Down Those Scissors Johnny!": How to Handle Behavior and Discipline Under 504
"Buried in Paperwork": Effective Data Collection Under Section 504
"Light at the End of the Tunnel": Dismissal from 504 – Does it Ever Happen?
Who Should Attend
NELI conferences are open to all school personnel. Whether you're in special education, general education, or school administration, this conference is designed for:
Special Education Directors
DAEP Personnel
Principals/Administrators
Superintendents
Educational Diagnosticians
504 Personnel
Special Education Personnel
General Education Personnel
Counselors
Teachers
LSSPs
Behavior Specialists
Charter School Personnel
Board Members
Not Able to Attend our Spring Conferences?
NELI's products allow you to bring the training and tools to you! Our Student Accommodations Folders make it simple for teachers to document EACH student's accommodations and keep their records in a single location while our General Educator's Guide to Accommodations DVD provides real-life scenarios that educators at all levels are certain to encounter. We also have RTI Folders, 504 Folders and our new line of laminated desktop references!
Register Now:
Bookings are closed for this event.
Copyright © 2022 National Educators Law Institute All rights reserved | Design by
Austin Web Design